Emergency Care for Elderly and Disabled Patients
Caring for a disabled or elderly loved one, can be one of life's most rewarding and fulfilling experiences. Under normal circumstances the task of providing care for a loved one can be extremely difficult for any friend or family caregiver, without introducing the added stress of preparing for and handling a medical or nonmedical emergency.
Unfortunately, emergencies do occur, and they are not uncommon when caring for elderly or disabled patients. An emergency could mean multiple things, it could be related to a preexisting medical condition or an unfortunate accident like a slip or fall.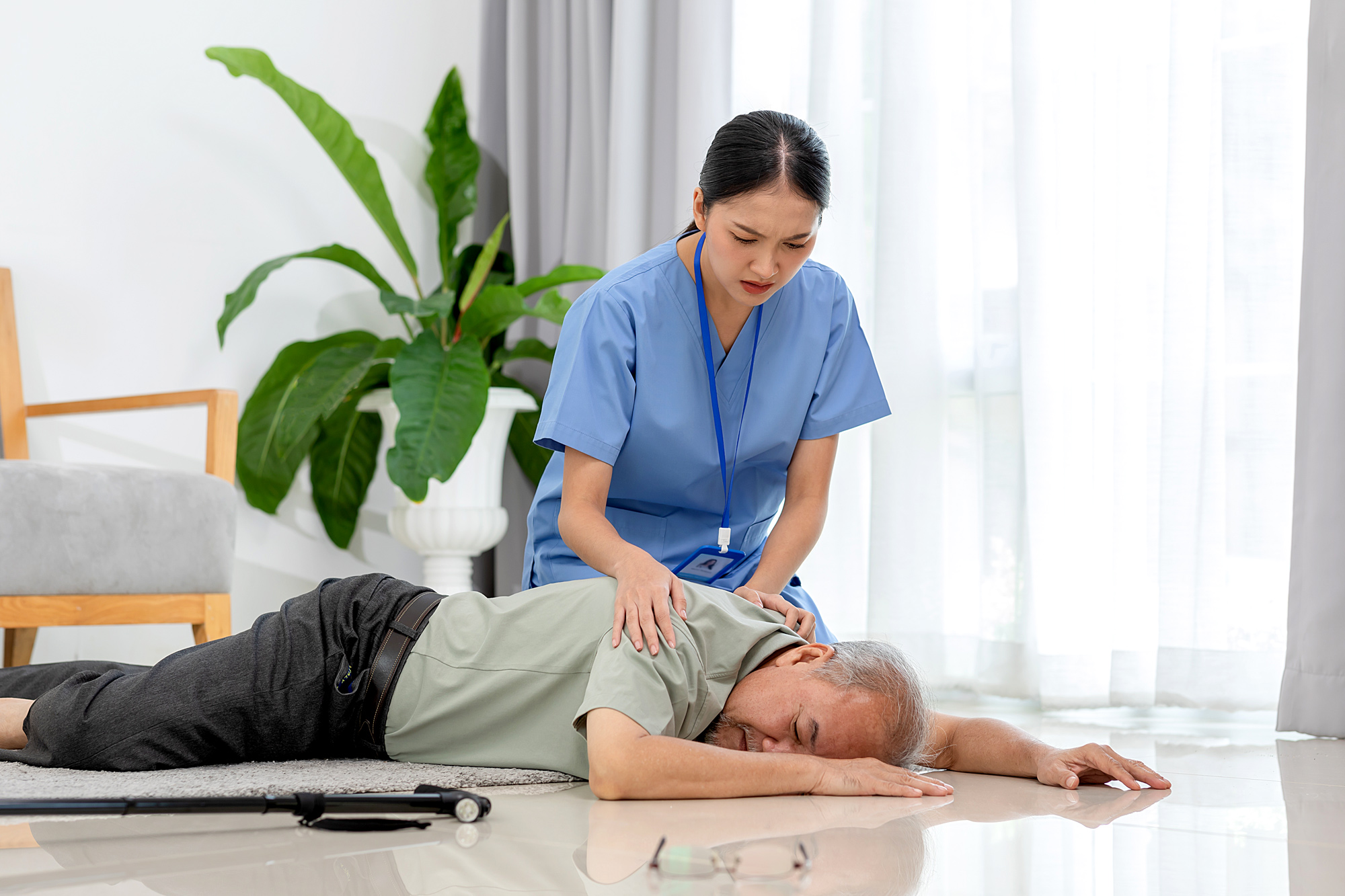 It's important that in-home caregivers take the proper steps to prepare for unforeseen events and the possibility of a medical and nonmedical emergency. Whether the caregiver is a friend, family member, or an outside service, every in-home caregiver should have a plan in place to ensure that the proper care is administered quickly and correctly in the event of a life threatening emergency.
At ASHH our team of certified in-home care specialists have the knowledge and experience to handle most in-home health emergencies. It's our goal to share these in-home emergency care tips and insights in the hopes that you will be better prepared and able to provide fast, lifesaving aid if needed.
The Most Common In-home Injury Related Emergencies:
Slip or Fall
Broken Bones
Concussions
Spinal Injuries
Bedrail Injuries
Burns
Heat Stroke
Hypothermia
Even with the assistance of a professional in-home health care provider it's important to remain calm and collected throughout an emergency to ensure you're taking the correct steps to preserving the quality of life and the health and wellness of your loved one.
Have a Game Plan, Be Prepared for an Emergency
Do you have a plan in place for your disabled or elderly loved one in the event of an medical or nonmedical emergency?
Every medical emergency is different depending on the severity of an injury or the current health condition of the patient. The most important thing to remember is to act quickly and decisively to preserve your loved one's quality of life, while doing no further harm. If you're unable to make it quickly and safely to a hospital, you should dial 911 immediately.
Consider obtaining a first aid or CPR certification, administering immediate lifesaving aid can make a huge difference in a loved ones recovery in a time of need.
What About Non-medical Emergencies
We have no control over the elements or unforeseen home emergencies like a tornado or house fire, however we can be prepared and ready for such events with a game plan in place to protect you and your elderly or disabled loved one.
It's important that you have a safe area within the home to safely shelter in place during severe weather. It's also important to make sure that a home's air conditioning and heating a functioning properly during the extreme winter and summer months to avoid heat stroke and hypothermia.
Our team of in-home caregivers are certified and have been trained to follow the appropriate storm and fire related safety protocol. Our staff is also dedicated to the care and wellbeing of each patient so you can rest assured that your loved one will receive the care he or she needs regardless of the weather report.
Stay Prepared During Medical and Nonmedical Emergencies by Following This Helpful Emergency Checklist
Dial 911 if Immediate Medical Assistance is Needed
Know the Quickest Route Out of the Home/Apartment
A Safe Area to Shelter in Place within the home
Properly Stocked First Aid Kit
Properly Functioning Fire Extinguisher
Keep Any Important Medications Stoked and On Hand
Become First Aid and CPR Certified
Easy to Use Medical Alert System or Cell Phone
By following our emergency checklist, you can make sure that your home is a safe environment while giving yourself the best chance to perform life saving aid. However, hiring an in-home caregiver is the best way to ensure that your elderly or disabled loved one is receiving immediate assistance and is taken care of in the event of an emergency.
Medical Alert Systems & Cell Phones Can Save Lives
A medical alert system is an excellent way to ensure that an elderly or disabled loved one will receive care from first responders in a timely manner, simply activate the Medical Alert System and help is on the way.
Medical Alert Systems can be easily installed throughout the home at easy access points. They can also be held in a pocket or worn on the person as a necklace, bracelet, or pendant.
Like most technology today, the modern medical alert systems have become easy to use smart devices that can be integrated with most home landlines, cellphones, or Bluetooth devices. Some devices even have an automatic fall alert function, that will alert first responders in the event of an emergency and an unresponsive patient.
If your loved one doesn't have a cell phone, Wi-Fi, or internet that's okay you don't need it for these devices to work. You don't even need to pay for a separate cellular data plan, it's typically provided by the medical alert company.
Be sure to ask if your insurance provider will cover the installation of your medical alert system.
You Can Trust ASHH In the Event of an Emergency
When it comes to the comfort and care of your elderly or disabled loved ones, you can rely on the knowledge and experience of our medically trained caregivers. Our team of in-home care providers are certified health experts and trained to handle in-home emergencies. ASHH's in-home caregivers act as first responders, having the advantage and ability to calmly administer lifesaving first aid rapidly on-site if the need should arise.
ASHH can help you prepare for possible medical and nonmedical emergencies, so you can spend less time worrying about what to do in one and more time enjoying your loved one. Let the caregivers at ASHH give you the piece of mind knowing that your elderly or disabled family member is cared for in any situation.
ASHH is there for you and your elderly or disabled loved one in the case of an emergency.
All Services Home Healthcare offers a broad range of services and programs to assist our elderly and disabled clients in the comfort of their own homes! To serve our clients better, we have conveniently located offices in the Kansas City, Overland Park, Topeka, and Wichita areas. Allow the professional, qualified in-home healthcare caregivers at ASHH to provide you and your loved ones the dignity and relief they deserve from the comfort of their own home!
We look forward to helping you! Fill out the contact form to the right for additional questions or information.
All Services Home Healthcare