All Services Healthcare Provides Continence and Toileting Care for Elderly & Disabled Patients

Do you have difficulty going to the bathroom? Do you worry about a loved one safety when they try to sit down or stand up from the toilet? Have they fallen while trying to go to the bathroom? Do they have trouble with continence, or must wear briefs to stay dry? Are they bedridden and have experienced frequent accidents that have caused problems like rashes or skin breakdowns?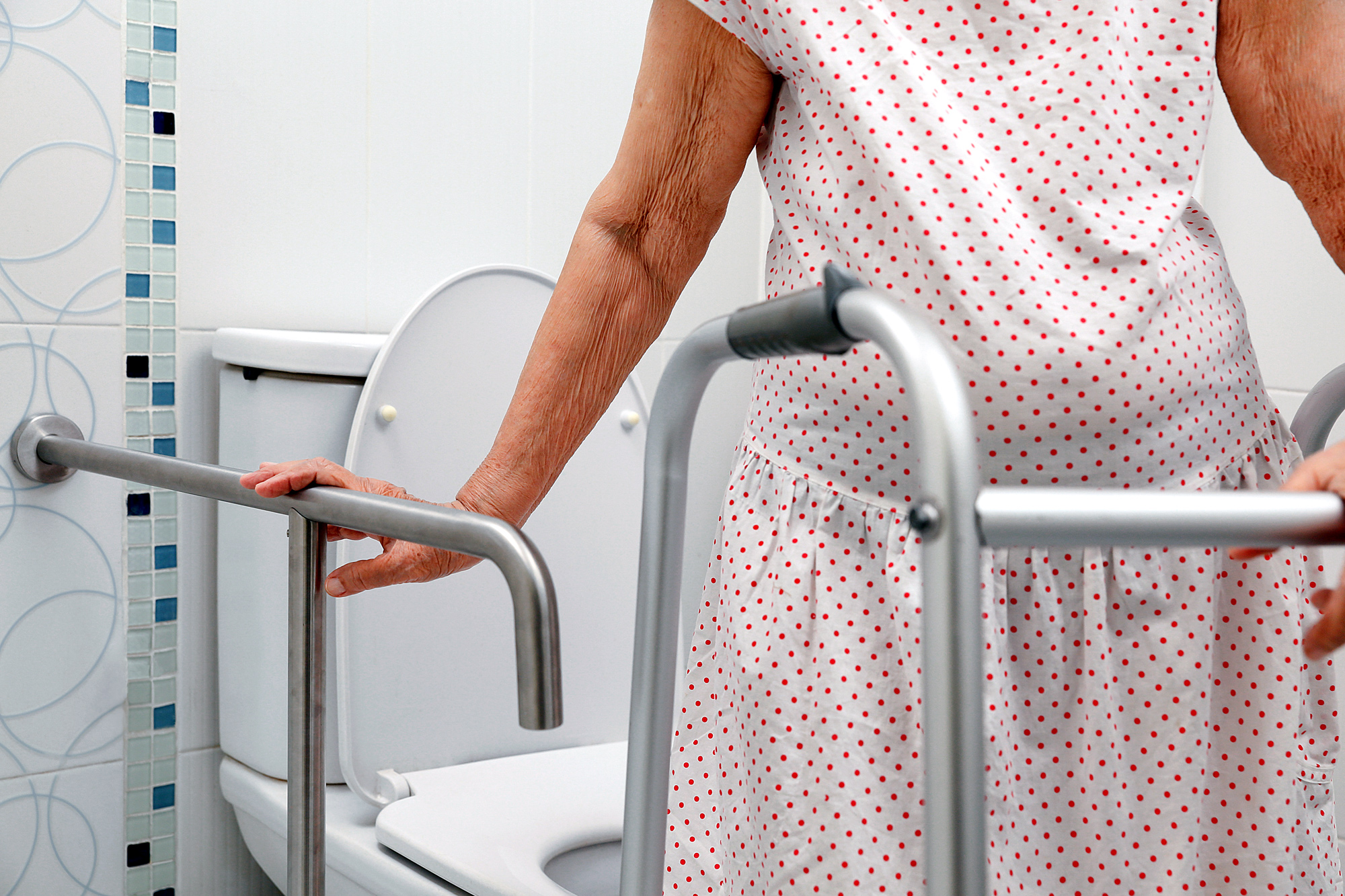 If any of these or similar situations describe yours or a loved one's difficulties with toileting and other related issues, you are not alone. All Services Home Healthcare (ASHH) healthcare team wants to help you and your loved ones. We understand how vulnerable it feels to receive toileting and continence care. We strive to create an atmosphere of dignity, trust, and cleanliness while we help our patients void their bladders and evacuate their bowels. We serve clients throughout the Missouri and Kansas area. The ASHH caregiver staff works to empower those we care for with the skills and tools they need to maintain their respect and independence.
The Significance of Toilet & Continence Care
Generally, most people do not like to think about their time using the bathroom. However, when attending to the basic need of peeing and pooping becomes problematic, it can consume far more attention than we would like. No one wants to feel unsafe trying to go to the restroom, but unfortunately many elderly and disabled people do. They have good reason to be concerned. A bathroom is typically a narrow space coupled with wet, slick flooring, where they must pivot to sit on a toilet that is lower to the ground than the average seat. According to the Centers for Disease Control, over 234,000 people fall in the bathroom every year. Of that number, approximately 33,000 people are hospitalized for the injuries they sustained during their falls . Considering that ground levels are also the leading cause of injury and trauma-related deaths makes these related statistics so frightening .
Many people cannot walk to the bathroom itself. People with conditions like paralysis, Parkinson's, ostomies, and the like, must rely on assistive devices like briefs (diapers), bedpans, bedside commodes, foley catheters, and colostomy bags to urinate and defecate in. While bedridden patients might not have to contend with fall risks as much as their upright counterparts, their condition is not without its own inherent complications. A person lying in a wet brief or bedding for prolonged periods of time, increases their chance of skin breakdowns exponentially. When a person lies unmoving for lengthy periods, they can even develop bedsores. Bedsores, also known as decubitus ulcers or pressure ulcers, are areas of redness, swelling, skin irritation, or lesions that form at places on the body with the most concentrated contact with the bed's surface. In severe cases, they can be filled with pus or deteriorate the skin to the bone . In addition, bedsores can lead to potentially dangerous systemic infections if exposed to excrement.
Conditions That Can Make Toileting, Hygiene, and Continence Care Difficult
Difficulty getting to the bathroom or handling continence and toileting is a prevalent problem internationally. Across the world, more than 15 percent of the population live with a disability, and about 46 percent of the elderly populace are functionally disabled . Many elderly, disabled, and rehabilitate patients require help attending to their personal needs like hygiene, feeding, mobility, and toileting. Numerous acute and chronic conditions make it difficult to safely and hygienically go to the bathroom.
Listed below are a few of the more common conditions that make toileting more difficult:
Paralysis
Ostomy
Bedsores
Parkinson's
Neuropathy
Colorectal Surgery
Urine Incontinence & Bowel Incontinence
Stroke
Closed Head Injury
Irritable Bowel Syndrome
Dementia
Weakness
Arthritis
Vertigo/Balance Issues
Morbid Obesity
When You're Feeling Most Vulnerable, All Service Home Healthcare Provides Compassion & Dignity During Toileting Care
At ASHH, we understand the vulnerability our clients feel when they need assistance going to the bathroom. We recognize that continence and toileting services can vary significantly between clients. We can assist our clients to the bathroom, get them a bedpan, help them stand and pivot to a bedside commode, change their briefs, or even provide colostomy care. Regardless of the care we provide, our caregivers consider all our clientele's individual needs in our home healthcare.
We deliver our healthcare services in the comfort of our client's own home. This allows them to remain relaxed in their environment while receiving the care that suits their specific needs. When it comes to the often complex and personal nature of toileting and continence care, we work with our clientele's schedule and evaluate their home environment for potential hazards or difficulties. From there, we may suggest the equipment they can obtain to aid them in keeping their autonomy and dignity.
Among the more common equipment we have recommended to help them safely urinate and poop is the following:
Urinal
Bedside Commode
Toilet Risers
Bedpans
Briefs/Diapers
Wall-mounted Grab Bars
Nonslip Floor Surfaces/Footwear
All Services Home Healthcare Provides Consistency, Care, and Peace of Mind
All Services Home Healthcare offers a broad range of services and programs to assist our elderly and disabled clients in the comfort of their own homes! To serve our clients better, we have conveniently located offices in the Kansas City, Overland Park, Topeka, and Wichita areas. Allow the professional, qualified in-home healthcare caregivers at ASHH to provide you and your loved ones the dignity and relief they deserve from the comfort of their own home!
1. Center of Disease Control and Prevention. (2011, June 10). Nonfatal Bathroom Injuries Among Persons Aged ≥15 Years — United States, 2008. Retrieved from https://www.cdc.gov/: https://www.cdc.gov/mmwr/preview/mmwrhtml/mm6022a1.htm
2.Center of Disease Control and Prevention (2016, September 22). Falls are leading cause of injury and death in older Americans. Retrieved from https://www.cdc.gov/: https://www.cdc.gov/media/releases/2016/p0922-older-adult-falls.html#:~:text=Press%20Release&text=Every%20second%20of%20every%20day,from%20injury%20among%20older%20Americans.
3.Mayo Clinic Staff. (n.d.). Bedsores (pressure ulcers). Retrieved from https://www.mayoclinic.org/: https://www.mayoclinic.org/diseases-conditions/bed-sores/symptoms-causes/syc-20355893
4.United Nations. (n.d.). Ageing and disability. Retrieved from https://www.un.org: https://www.un.org/development/desa/disabilities/disability-and-ageing.html#:~:text=Currently%2C%20it%20is%20estimated%20that,experience%20moderate%20to%20severe%20disability.
All Services Home Healthcare