Meal Preparation and Special Diets for Elderly & Disabled Patients
One of our most basic needs is food. Unfortunately, getting regular meals can be difficult for some to manage independently. According to the US Department of Agriculture, up to 38 million people in America alone live with food scarcity . These statistics do not include households where people have special dietary concerns that are affected by conditions diabetes, celiac, and food allergies.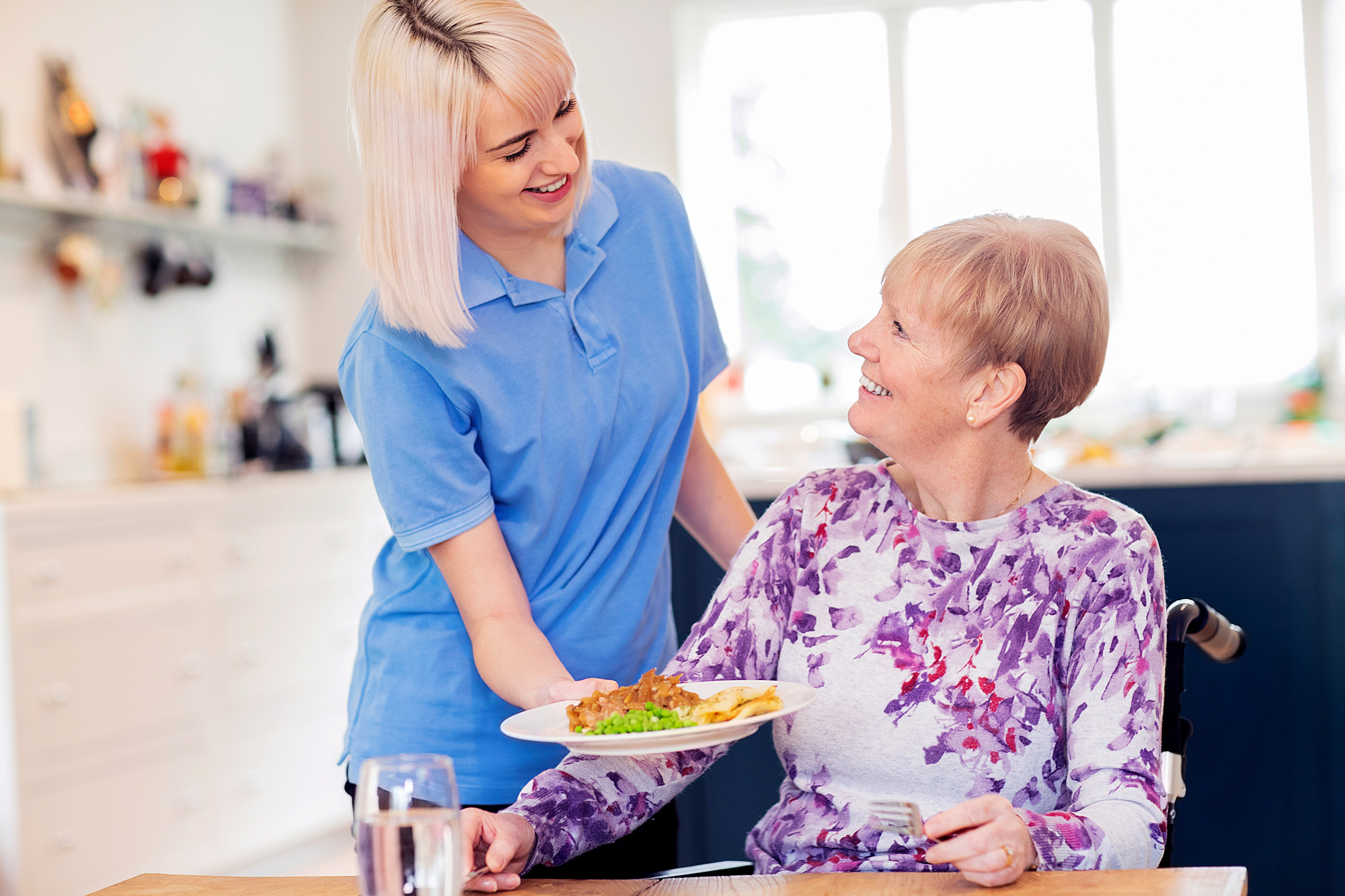 For some people, access to food is even more complicated because of their mobility restrictions, physical impairments, and prevalent medical conditions. Their limitations make access to grocery stores and food services challenging to obtain, if not impossible, without assistance. Even if they do have access to food, some people cannot do even the most basic cooking because of their disabilities.
If you or a loved one has difficulty accessing food or cannot prepare it, please allow the healthcare team at All Services Home Healthcare (ASHH) to help. We understand how food scarcity can make anyone feel isolated and vulnerable. This is why we strive to create an atmosphere of trust, security, and cleanliness while we help our clients with their dietary needs. We serve clients throughout the Missouri and Kansas area with all their healthcare needs including grocery shopping and cooking. The ASHH caregiver staff works to empower the clients we care for with the skills and tools they need to maintain their respect and independence.
All Services Home Healthcare Obtains & Prepares Food for Your Dietary Needs
Preparing regular meals can be difficult for many households. This is especially true for people with disabilities. In fact, 15 percent of the population worldwide live with a disability. Of that statistic, about 46 percent of the elderly population are considered functionally disabled . This makes tasks that most people take for granted like taking care of their hygiene, feeding themselves, mobility, toileting, and of course, meal preparation difficult, if not impossible, to do on their own.
This is why the team at ASHH offers to help our clients with meal preparation and cooking services. Our team will prepare nutritious meals for our clients in their own homes. We can ensure that these meals adhere to our clients' dietary restrictions, including gluten-free, diabetic, low sodium, low trans-fat, vegetarian, vegan, and more. The team at ASHH also goes the extra mile for our clients with our grocery shopping service. Our healthcare team can do your grocery shopping for you and acquire the specific foods you need to make the dishes you enjoy.
ASHH Helps Our Clients with Their Special Dietary Needs
Getting regular meals can be challenging enough in the day-to-day, but even more so for those who are on special diets. In these cases, getting the food you need and want can be that much more difficult. However, our team of providers understands that getting the food you require is not only a key component of your health but also a major boost to your overall morale. Eating a good meal that you look forward to not only grants you the nutrition you need for your physical health but can also improve your mental health as well.
Understanding how nutrition can affect all these aspects of our health, our healthcare team strives to make the dishes that our clients know and love. We take special care to follow their dietary restrictions so that the meals we provide keep them both happy and healthy.
Some of the more common dietary restrictions and preferences that we adhere to when making meals are the following:
Diabetic
Gluten-Free/Celiac
Dairy-Free/Lactose Intolerance
Low-Sodium
Low Trans-Fat
Vegetarian
Vegan
Kosher
Food Allergies (Nuts, Soy, Eggs, Wheat, Shellfish, Etc.)
Mechanical Soft Diets
All Services Home Healthcare Provides Consistency, Care, and Peace of Mind
All Services Home Healthcare offers a broad range of services and programs to assist our elderly and disabled clients in the comfort of their own homes! To serve our clients better, we have conveniently located offices in the Kansas City, Overland Park, Topeka, and Wichita areas. Allow the professional, qualified in-home healthcare caregivers at ASHH to provide you and your loved ones the dignity and relief they deserve from the comfort of their own home!
We look forward to helping you! Fill out the contact form for additional questions or information.
(U.S. DEPARTMENT OF AGRICULTURE, 2022) U.S. DEPARTMENT OF AGRICULTURE. (2022, April 22). Food Security in the U.S. Retrieved from https://www.ers.usda.gov: https://www.ers.usda.gov/topics/food-nutrition-assistance/food-security-in-the-u-s/key-statistics-graphics/#insecure
United Nations. (n.d.). Ageing and disability. Retrieved from https://www.un.org: https://www.un.org/development/desa/disabilities/disability-and-ageing.html#:~:text=Currently%2C%20it%20is%20estimated%20that,experience%20moderate%20to%20severe%20disability.
All Services Home Healthcare