ASHH Provides In-Home Walking & Mobility Services

Most people take simple actions like standing, sitting, walking, and getting out of bed for granted. Unfortunately, there are many who find such activities not only difficult but unsafe to do without assistance. Simply put, mobility equals freedom, and people with acute and chronic conditions that affect their ability to move, often feel imprisoned by their circumstances.
If this describes the daily life of you or a loved one, then please allow the team at All Services Home Healthcare the chance to help you today. Serving patients throughout the Kansas and Missouri area, the caregiver staff ASHH believes in the importance of staying mobile and active to promote and maintain a healthy lifestyle. Our team of healthcare professionals are passionate about empowering our patients with the tools and skills they need to enjoy the freedom that mobility enables.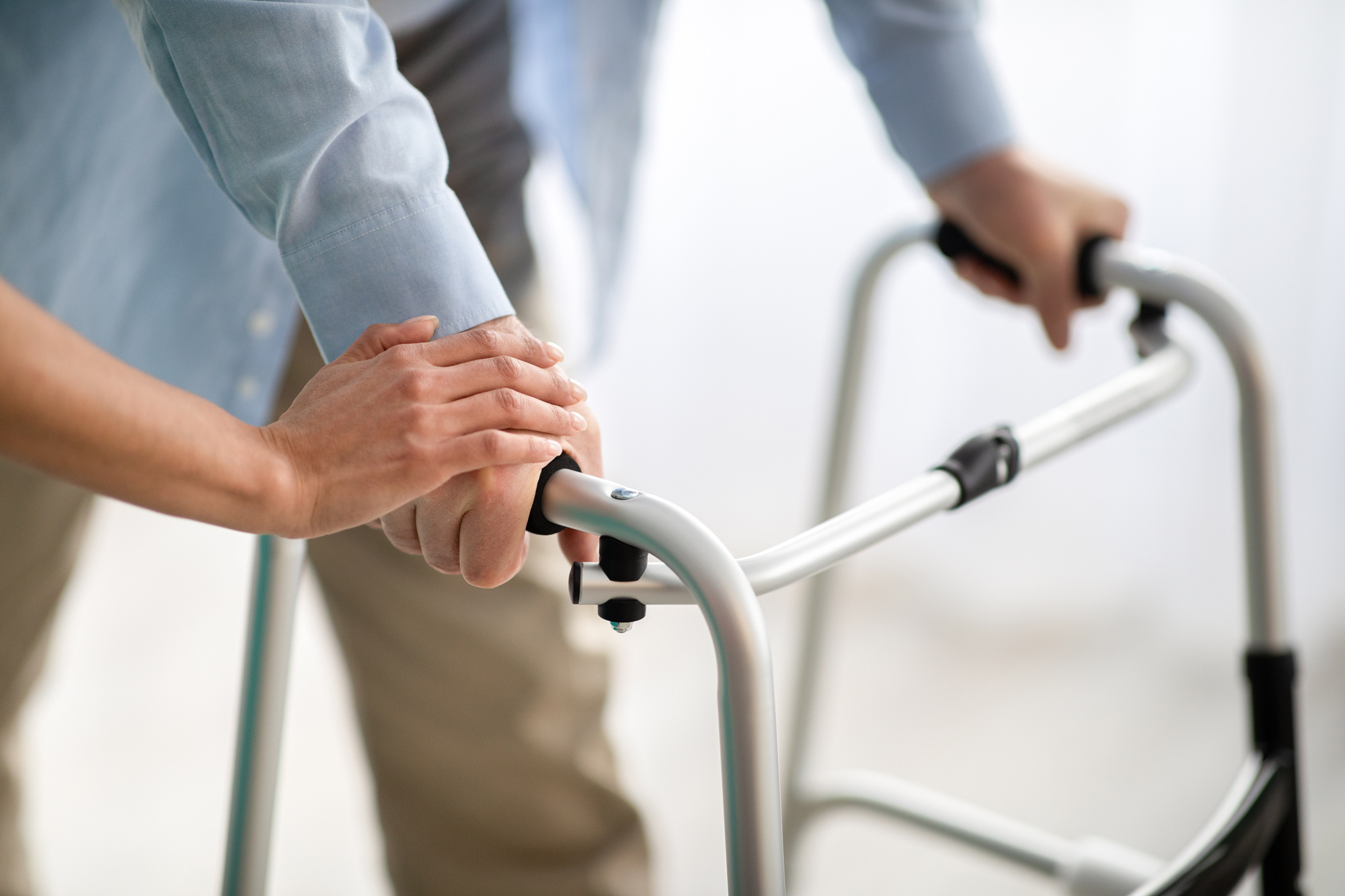 Health is Linked to Walking and Mobility
It's no secret that mobility can be linked to a person's health and wellness. A person's activity level is directly associated with their physical well-being, cardiovascular health, psychological health, cognitive (mental) function, and ability to maintain their social connectivity. When their mobility is impaired by factors like sedentary lifestyle, acute injury, a debilitating condition, or disease, this can harm a person physically and mentally. An acute or chronic event that limits a person's ability to walk or move often leads to a marked decline in that same person's health and well-being.
Simply put, if you don't use it, you lose it. This is especially true for mobility and walking. That is why the staff at ASHH work so diligently to empower our patients with the impaired ability to walk or move. We want to help our patients maintain their sense of freedom and dignity. We work with them, their families, and caregivers to keep them moving and identify strategies that can help them stay active and healthy.
Prevent Fall Risks
One of the primary concerns for people with limited mobility is their increased risk of falls. According to the CDC, an elderly adult falls once every second in the United States alone. This makes ground-level falls the leading cause of injury and death in America . To help prevent this risk, the team at ASHH works diligently with our clients to avoid and prevent such accidents. We identify potential risk factors like stairs, narrow passageways, and cluttered environments. We also help our clients develop strategies to help them avoid losing their balance, tripping, and falling.
Common Conditions That Impair Mobility & Walking
There are many acute and chronic ailments and conditions that can, directly and indirectly, impair a person's ability to walk and move. Listed below are a few of the more common medical conditions, illnesses, and injuries that limit mobility and require treatment:
Parkinson's
Knee Injury or Knee Replacement
Hip Injury/Fracture
Stroke
Paralysis
Neuropathy
Diabetes
Osteoporosis
Closed Head Injury
Dementia
Heart Attack
Weakness
Arthritis
Vertigo/Balance Issues
Obesity
Home Healthcare Mobility Assistance Services Enables Freedom, Autonomy, & Dignity
Mobility is linked to nearly every aspect of our daily lives. At ASHH, we understand how impaired walking and movement can significantly affect our clients' health, autonomy, safety, and ability to connect and maintain their social lives. We appreciate the trust granted to us by our clients to not only get them moving but help them keep moving.
We understand that walking and mobility services can vary significantly between clients. For example, after a significant event, some of our clients have been wheelchair-bound and need help learning how to transfer in and out of their bed and chairs. Others have recently suffered from a stroke and need help learning how to operate a new walker. Others may have suffered a recent traumatic leg or hip injury and require assistance safely navigating their homes and bathrooms. In every situation, we consider our clients and individual needs and how we can help them maintain their dignity and autonomy and help them identify areas where they need assistance.
The staff at ASHH provides our home healthcare services in the privacy of our client's own home. This allows them to remain in the comfort of their environment while they receive tailored care to suit their specific needs. We can work with the client, their family, and caregivers to create a schedule that will keep them mobile and walking. We also evaluate the client's home environment and help them identify potential risk and safety issues that they may encounter in their everyday activities. From there, we develop strategies and solutions to mitigate these risks and help them prevent future injuries. We also suggest which safety and medical equipment they could help make their mobility and self-care easier to maintain and avoid further risks. Some of the more common equipment we may suggest is a shower chair, toilet risers, bedside commodes, guardrails, and more. For clients who need assistance in other areas of self-care, we can provide additional services like bathing, hygiene, meal prep, eating, transfers, toileting, and help them get dressed.
ASHH wants to be a part of your team to help you or your loved ones get up and moving. We can work with our clients at home, around the block, or at the park. Regardless our team is ready to help you get active and healthy. We want to empower you and your loved one for your next adventure!
All Services Home Healthcare Provides Consistency, Care, and Peace of Mind
All Services Home Healthcare offers a broad range of services and programs to assist our elderly and disabled clients in the comfort of their own homes! To serve our clients better, we have conveniently located offices in the Kansas City, Overland Park, Topeka, and Wichita areas. Allow the professional, qualified in-home healthcare caregivers at ASHH to provide you and your loved ones the dignity and relief they deserve from the comfort of their own home!
We look forward to helping you! Fill out the contact form below for additional questions or information.
01. Center of Disease Control and Prevention (2016, September 22). Falls are leading cause of injury and death in older Americans. Retrieved from https://www.cdc.gov/: https://www.cdc.gov/media/releases/2016/p0922-older-adult-falls.html#:~:text=Press%20Release&text=Every%20second%20of%20every%20day,from%20injury%20among%20older%20Americans.
All Services Home Healthcare