All Services Home Healthcare Provides In-Home Bathing and Hygiene Services
Many people take basic bathing and hygiene for granted. After a long day, few joys overcome the simple pleasure of taking a hot bath or shower to wash your troubles away. Unfortunately, for some, basic hygiene is not only difficult but outright impossible to safely do. For people with reduced mobility from conditions like paralysis, Parkinson's, strokes, and multiple sclerosis, getting into their tubs or showers can be tricky and dangerous. For others, the simple act of bathing, brushing their teeth, and hair care is simply beyond their physical capabilities.
If this describes you or a loved one's daily life, then please let the team at All Services Home Healthcare help you today. Our team has cared for countless patients throughout the Kansas and Missouri area. We have served patients with both acute and chronic conditions who need assistance with basic self-care like bathing, oral hygiene, meal prep, eating, toileting, and getting dressed. We provide our home healthcare services in the privacy of our patient's own home, allowing them to remain in the comfort of their own environment while they receive the personalized care they need.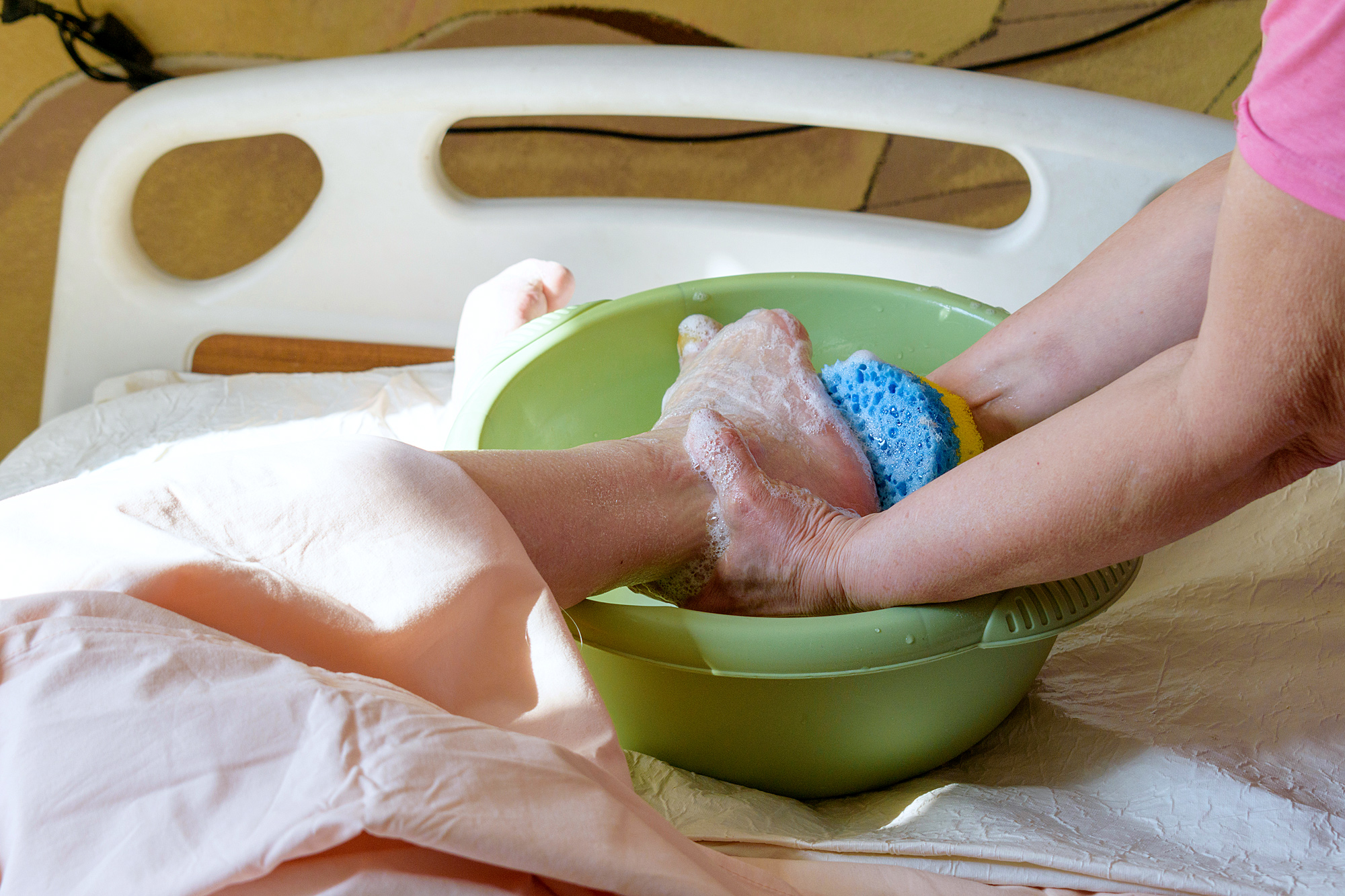 Home Healthcare Bathing Services Provides Hygiene and Dignity
Good personal hygiene is not only essential for improving a person's day-to-day health, but it also improves their sociability, morale, and dignity. At ASHH, we understand that needing help with tasks like bathing and hygiene puts our clients in a place of vulnerability. This is why each of our in-home personal caregivers are specially trained to provide services like bathing and personal hygiene in a way that focuses on preserving the dignity, comfort, and health of each client.
We understand that hygiene and bathing services can vary significantly between clients. Some of our clients may need more extensive help in cleaning themselves. In these cases, we provide full bath services, complete with redressing clients and changing their linens with the clean laundry they have available in the home.
For our clients with limited mobility, we can assist them to the bathrooms of their homes and help them maintain their safety while they transfer in and out of the shower or bathtub. In addition, we provide shower assistance to help our clients maintain their autonomy in a safe environment to clean themselves properly.
Time and again, we have seen how bathing vastly improves the morale of our clients. In addition, many of our clients look forward to the bath and hygiene services our caregivers provide.
Prevent Fall Risks in the Bathroom
One of the primary concerns for people with limited mobility is their increased risk of falls. According to the CDC, an older adult falls approximately every second in the United States alone. Making ground-level falls the leading cause of injury and death in America . To mitigate this increased risk, the caregivers at ASHH work diligently with our clients to prevent such accidents. We help them bathe and attend to their hygiene in a manner that is both safe and comfortable.
All Services Home Healthcare  Provides Consistency, Care, and Peace of Mind
All Services Home Healthcare offers a broad range of services and programs to assist our elderly and disabled clients in the comfort of their own homes! To serve our clients better, we have conveniently located offices in the Kansas City, Overland Park, Topeka, and Wichita areas. Allow professional, qualified in-home healthcare caregivers at ASHH to provide you and your loved ones the dignity and relief they deserve from the comfort of their own home!
We look forward to helping you! Fill out the contact form for additional questions or information.
Center of Disease Control and Prevention (2016, September 22). Falls are leading cause of injury and death in older Americans. Retrieved from https://www.cdc.gov/: https://www.cdc.gov/media/releases/2016/p0922-older-adult falls.html#:~:text=Press%20Release&text=Every%20second%20of%20every%20day,from%20injury%20among%20older%20Americans.
All Services Home Healthcare