ASHH Doesn't Just Provide In-Home Medical Care We Also Provide Essential Homemaker Services
At All Services Home Health, our essential homemaker services offer those without the ability to care for themselves the option to still live at home. Our team of in-home caregivers not only provide top rated in-home healthcare, but they also aid patients with home management, including daily living activities, like cleaning, running errands, meal preparation, and many other essential daily tasks.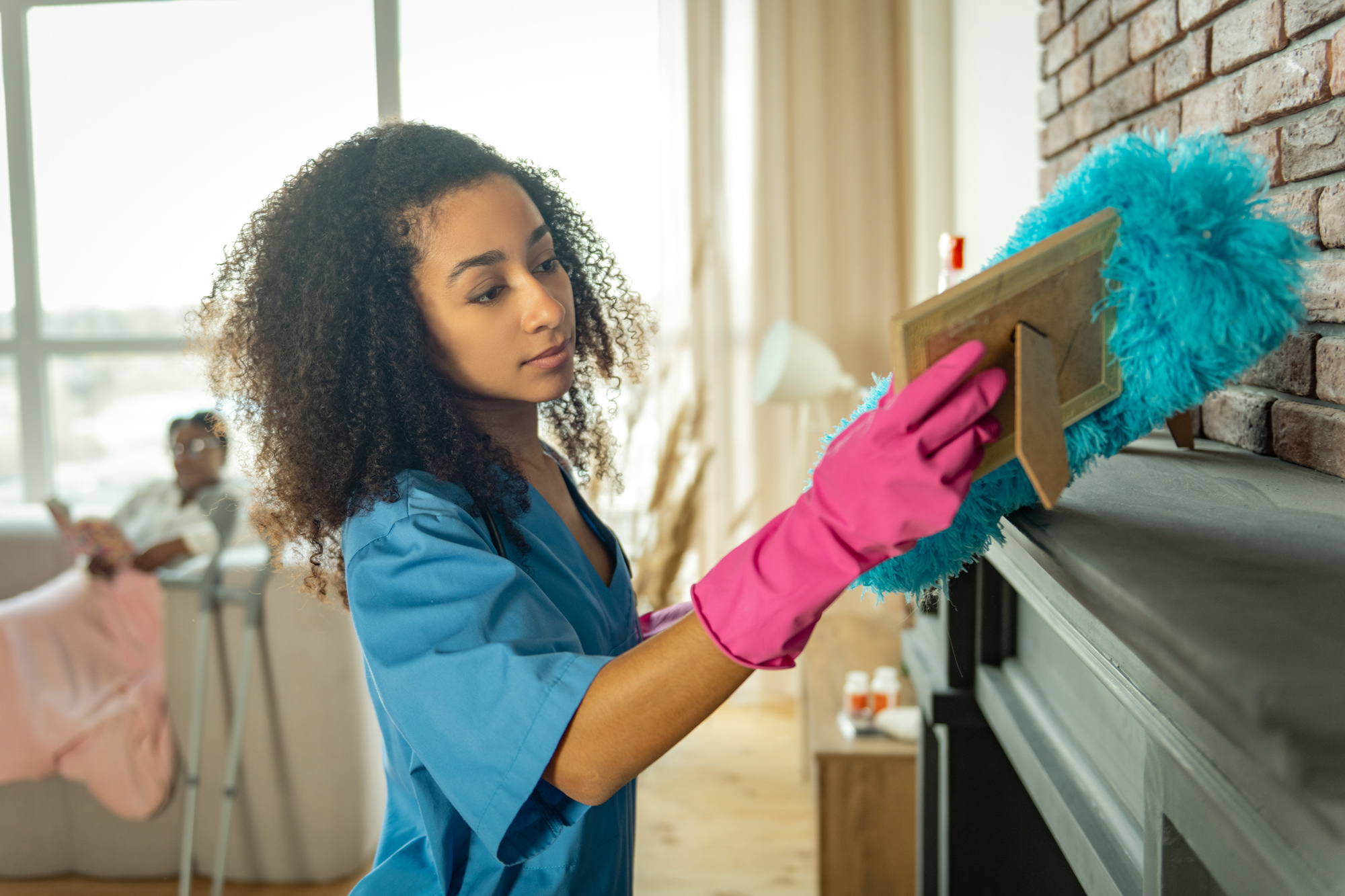 Every client we care for has specific needs and many of our patients require additional assistance to remain at home. It's our mission to ensure every patient we care for not only receives the medical care they need, but also the support they need to maintain a functional home.
ASHH caregivers are trained in all aspects of in-home healthcare and ready to make the lives of every patient easier and manageable.
Below is just a small list of what our team of top-rated in-home healthcare professionals can do to ensure that you or your loved ones health is optimal, and the home is maintained and cared for.
Washing Patients Clothes & Linens
Clean Up After Meals & Activities
Iron and Mend Patients Clothes
Dishwashing
Windows & Blinds Cleaning
Kitchen Cleaning – Counters, Cabinets, Appliances, Oven, Stove, & Fridge
Shopping For: Groceries, Cleaning Supplies, Etc.
Bathroom Cleaning
Gathering House Trash
Making the Bed
Essential Errands: Get Meds, Post Mail, Etc.
Sweeping, Vacuuming, and Floor Scrubbing
Reading & Writing for Patients
Daily Clean Up
Dusting the Entirety of the Home
Helping Patients Perform Household Tasks on Their Own
ASHH has the unique ability to provide clients with essential in-home healthcare services while providing the support of homemaker services, empowering each client, and allowing them to live a life of normalcy in the comfort of their own home.
Our in-home healthcare and homemaker services are easy and affordable and we also offer financial support through Missouri's Program for Consumer Direct Services as well as our Financial Management Services.
All Services Home Healthcare Provides Consistency, Care, and Peace of Mind
We offer a broad range of services and programs to assist our elderly and disabled clients in the comfort of their own homes!
To serve our clients better, we have conveniently located offices in Kansas City and Overland Park. Allow the professional, qualified in-home healthcare caregivers at ASHH to provide you and your loved ones the dignity and relief they deserve from the comfort of their own home! We look forward to helping you!
Fill out the contact form for additional questions or information.
All Services Home Healthcare