Does Your Elderly or Disabled Loved One Struggle with Oral Hygiene
Caring for a disabled or elderly loved one is a fulltime job and keeping up with oral hygiene on top of regular meal preparation, cleaning, and your personal or daily routine is no easy feat.
At All Services Home Healthcare we offer a full list of affordable in-home health and wellness services that can help alleviate your workload and ensure that your loved one is receiving the best possible care.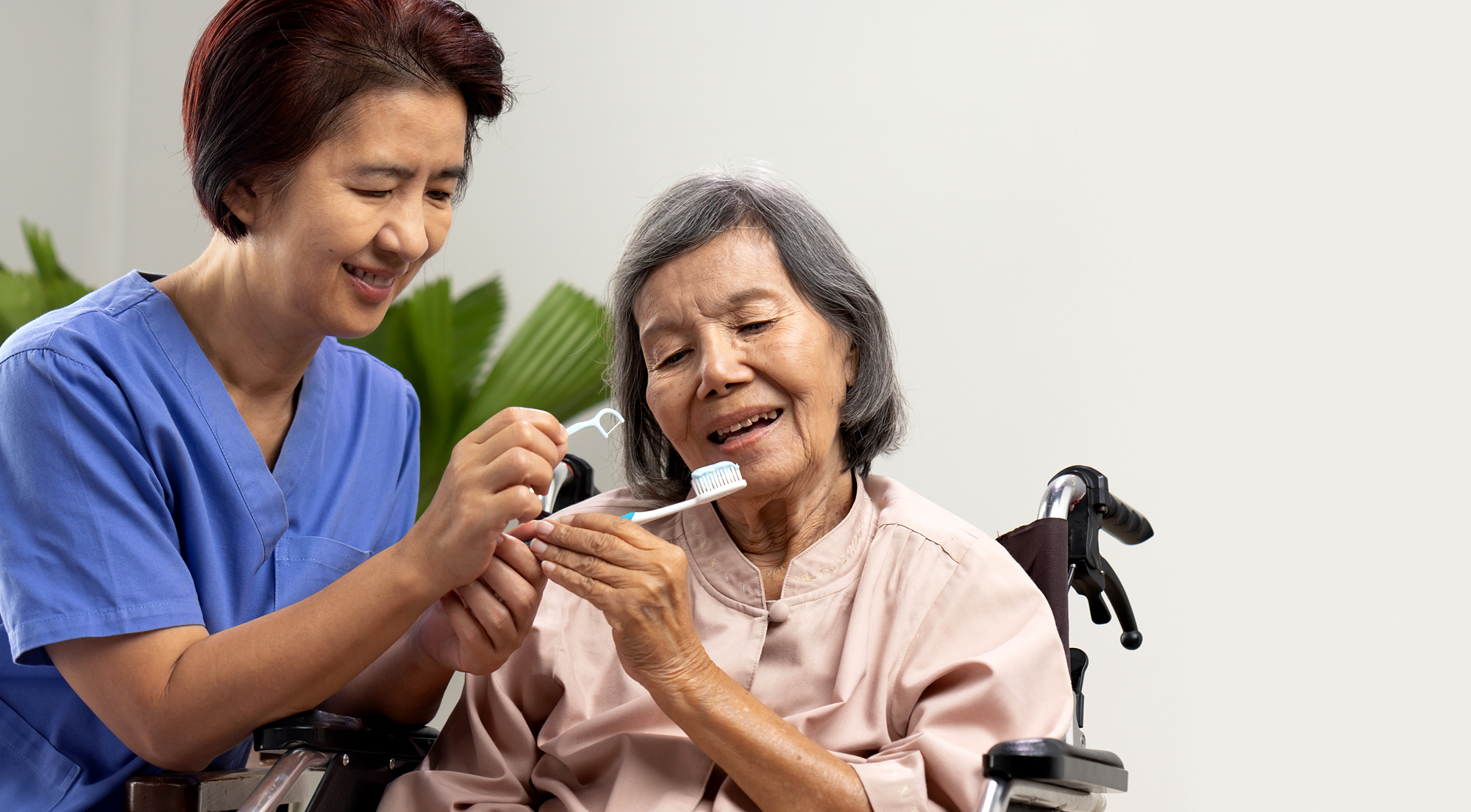 For the elderly and those limited by mobility or special needs, everyday tasks like brushing your teeth can be troublesome. If proper routine oral hygiene is neglected it can lead to difficulty eating caused by mouth, gum, or tooth pain. If oral hygiene issues are left untreated or properly cared for it can result in serious health issues like infection and heart disease.
If your loved one is disabled or of an advanced age and unable to manage his or her oral hygiene our team caregivers can help with assisted brushing, flossing, and mouth washing. If your loved one is able care for their own oral hygiene but might need some guidance or assistance, then one of our team members will be there to ensure that they are practicing good oral hygiene.
Avoiding expensive dentist visits, implants, and oral surgery can be done with regular brushing, flossing, and anti-bacterial mouth washing. At All Services Home Healthcare we will help protect your loved one's smile.
What to Consider: Oral Hygiene for Elderly and Those with Limited Mobility.
Oftentimes our elderly loved ones might not have cared for themselves properly prior to needing homecare, things like lack a of thorough or regular brushing can result in tooth decay and gum disease.
As we age our bodies begin to breakdown over time the layer of enamel that protects our teeth starts to weaken and our gum lines begin to recede, it's important to note that once this process has started it can't be reversed it can only be slowed down or maintained by practicing good oral hygiene.
As we age tooth loss is extremely common and nothing for an elderly loved one to be embarrassed about. Our team of experienced in-home caregivers have the knowledge to maintain oral hygiene for clients with dental implants or dentures. Our care methods are gentle, and our cleaning techniques will ensure that your loved one's dental investment will be protected for years to come.
On top of ASHH routine or specified daily care our team of expert in home caregivers will ensure that your loved one is practicing good oral hygiene or receiving routine brushing twice daily and even after meals.
ASHH Can Help in Following Areas of Oral Hygiene
Assisted Brushing
Assisted Flossing
Antibacterial Mouth Washing
Bad Breath
Gum Health
Cavity Prevention
Denture Care
Whether the care recipient is limited by mobility or an elderly patient that needs a reminder of their daily routine, ASHH can help. Our team of expert in-home caregivers administer gentle but thorough routine oral hygiene care that will leave your loved one smiling.
Oral Hygiene Plays a Major Role in Overall Health
Oral hygiene plays a major role in one's overall health, this is especially true for our elderly and disabled loved ones. Things like tooth loss or mouth pain can make the already difficult task of feeding an elderly or disabled loved one that much harder. Its also important to understand thar poor oral health can lead to chronic diseases like diabetes, heart disease and even forms of oral cancer.
Most Common Elderly or Disabled Care Patient Oral Hygiene Issues
Untreated Tooth Decay
Gum Disease
Tooth Loss
Oral Cancer
Chronic Disease
Diabetes
Heart Disease
It's important to note that in addition to routine brushing, flossing, and mouth washing that your elderly or disabled loved one should be examined by a dental practitioner at least once a year for a deep cleaning and full examination. Routine visits to the dentist can help in the early detection and prevention of chronic disease and oral cancer. These visits will also help to maintain and prevent any further breakdown of your loved one's oral health.
All Services Home Healthcare Provides Consistency, Care, and Peace of Mind
All Services Home Healthcare offers a broad range of services and programs to assist our elderly and disabled clients in the comfort of their own homes!
To serve our clients better, we have conveniently located offices in the Kansas City, Overland Park, Topeka, and Wichita areas. Allow the professional, qualified in-home healthcare caregivers at ASHH to provide you and your loved ones the dignity and relief they deserve from the comfort of their own home!
We look forward to helping you! Fill out the contact form to the right for additional questions or information.
All Services Home Healthcare